Disinfecting & Cleaning Services in Gainesville, Florida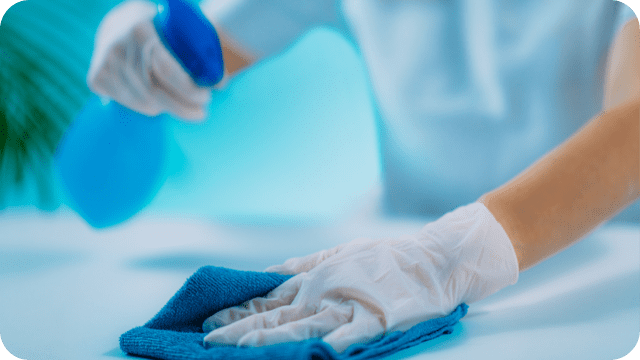 Our office located in Gainesville, Florida is also able to provide disinfecting and cleaning services. These disinfecting and cleaning services can be used by homes and businesses alike. They provide an added layer of protection against potentially harmful pathogens, irritants, and allergens. Businesses can utilize these services after a day of heavy traffic or even normal traffic. Homes can use our disinfecting and cleaning services before or after any social gatherings. Our technicians in Gainesville, Florida will carefully comb through your home or business and disinfect high-touch objects and surfaces. High-touch surfaces such as counters are touched often and cleaned seldom. High-touch items such as remotes, handles, doorknobs, and furniture are also commonly touched by visitors and those who frequent a home or business, yet are rarely cleaned.
Our disinfecting and cleaning services allow our technicians in Gainesville, Florida to provide a deep, encompassing clean that helps protect those who depend on your business or home. Pathogens pose a genuine risk when a carrier comes into your home or business with no protection or doesn't realize they are a carrier. These pathogens can be left behind on surfaces or items that are left unclean. If left unclean, these pathogens can spread quickly to a new host on contact. Our technicians in Gainesville, Florida offer a flexible schedule to help schedule these services around your availability and what time works best for you.
While administering our disinfecting and cleaning services, our technicians in Gainesville, Florida follow and adhere to all governing agencies' restrictions and guidelines. Agencies like the Environmental Protection Agency, Occupational Safety and Health Administration, and the Centers for Disease Control set rigorous standards and guidelines for companies to follow. Our technicians in Gainesville, Florida adhere to all rules and regulations, we only use EPA-approved chemicals while dispensing our disinfecting and cleaning services.
Read What Our Disinfecting & Cleaning Customers Are Saying
"United Water Restoration's Lamar Odom did an exceptional job, inspecting the water damage, explaining his plan for drying out the affected rooms, and his professionalism and friendliness all contributed to a near-painless experience, despite having water damage of course. I recommend him and United Water Restoration Group of Gainesville."
"I very impressed with the job Mike Strange did and his knowledge of his profession and extremely skilled at what he does... well done Mister Strange."